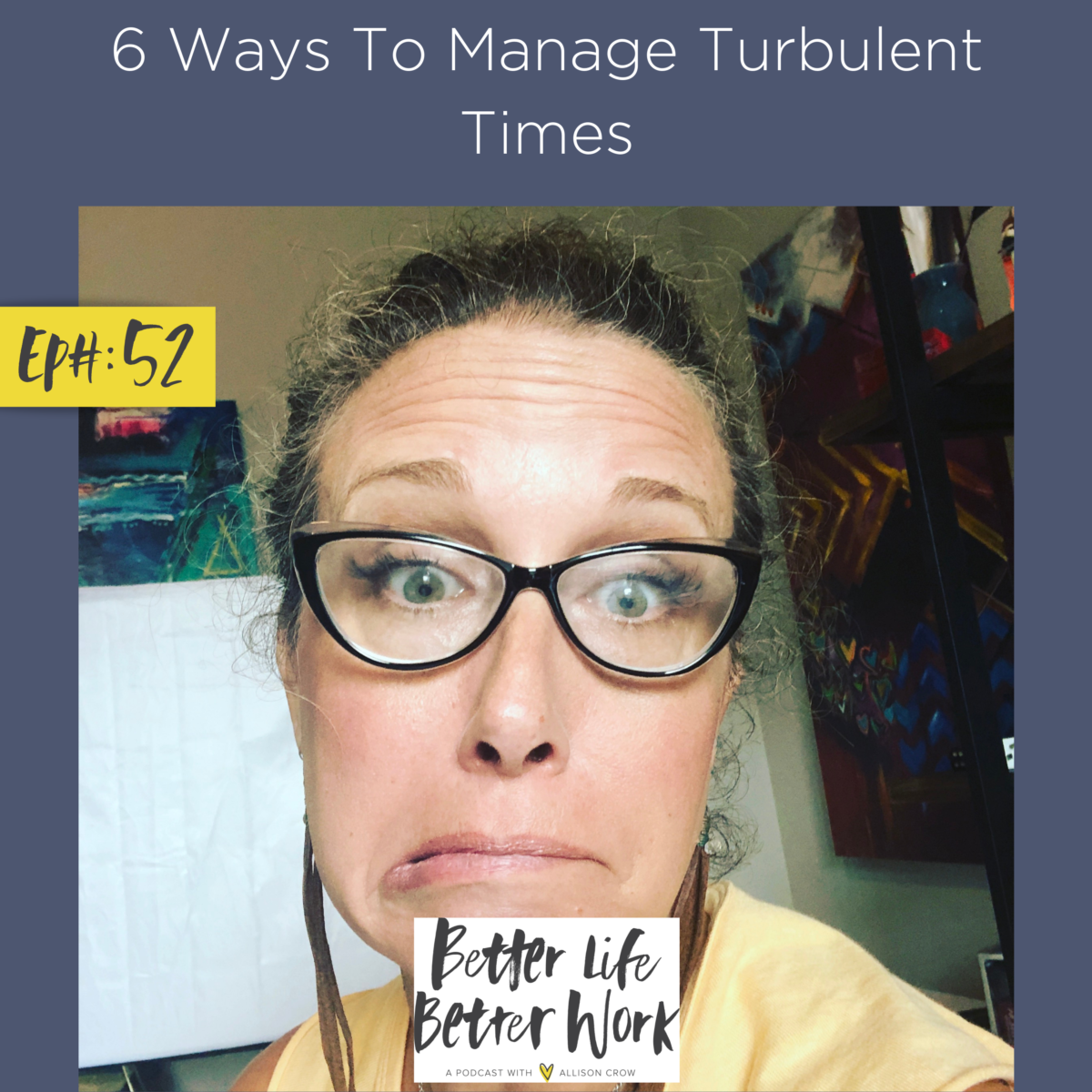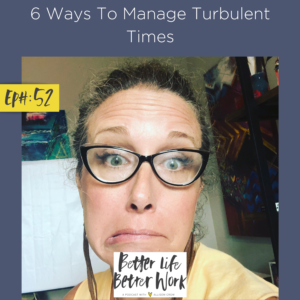 Yes. Today we're going to talk about turbulence. How are you doing? Really, how are you doing?
I remember actually my very first class in college at the University of Texas, the very first thing that ever came out of a professor's mouth was in a sociology class. And she talked about how people answer the question, "How are you doing?" with the word "fine."
What I know for sure is that life is turbulent. So I want to talk about turbulent times. Many of my clients are going through amazing times, but a lot of them are also going through turbulent times. And so today's episode, I have six ways for you to manage and support yourself during turbulent times. Because I know often, especially if you are like me and you're working behind the computer. And yes, you're connecting with people online, occasionally you're connected with people offline. But it's so easy for our brain to make up that everybody is just happy-go-lucky and living this really curated, beautiful life. And the thing is it is curated. It is not all of their life. So there's often so much going on underneath what we are seeing in the online world.
And I know we know that. When you stop and think about it, you realize people are only sharing what they want to share and that we can often get caught in the trap of comparing our insides to other people's outsides. I do it often. And, I want us all to begin to think about life differently. So I'm going to say something controversial here.
I've probably said it before, but life is not all happy, and life is kind of a both/and thing. So on one hand life is both amazing and wonderful, and what we choose it to be. And, life can also be really shitty.
This is not about complaining, it's not about being a victim, but we are human beings. And for way too many years, I would use positivity to bypass, and spirituality to bypass difficult times. So today, we're going to be talking about turbulence. What I am learning over the last four years is the more that I know how to handle difficult times and difficult emotions, the easier it for me to feel better, right? So this is the Better Life Better Work Show.
I do know that in every coaching session I've ever had, at the end of the day, if I were to drill down to my client's motives, every single one. And we're talking thousands y'all, thousands, and thousands, and thousands. I have over 30,000 hours of coaching. And each individual, if we were to really drill it down, would tell me that they want to feel better. They want better life and better work, and to feel better. It sounds so simple, but think about it, right? There's nothing wrong with feeling better.
So let's talk about turbulence.
#1 Life is awesome, and life is also shitty
I have a mentor that used to say life is 50% awesome and 50% shit. And a lot of people really thought she was being negative. What I love is she was being true. No matter how positive and happy you are, if someone you love unexpectedly dies, that feels like shit for a period of time.
We are not living in La La Land, and I love the days and the times when things feel good. But the reality is the human experience is fraught with both beauty and terror intertwined.
I had a girlfriend that had a disabled child, and they use that phrase beauty and terror intertwined. It was like, "We love our child. There's so much beauty in this journey, but there is also terror in this." And yes, they had an extreme case. But you guys, every single one of you listening probably has something in your life. Something that brings an element of difficulty. And I have found that bypassing those difficulties is more harmful than helpful. So the first thing is just to acknowledge that turbulence exists.
If we're here having a human experience, spiritual beings having a human experience, we are going to experience some turbulence. I want to ask you to notice. When I say that phrase life is 50% awesome and 50% shit, what is your response? Do you have this automatic happy, positive response? Do you have a, "Yeah, it's horrible," a victim response? Or can you find some neutrality and awareness and noticing of the both/and of life?
#2 Brace for Turbulence – You are built to withstand it
This part, I'm totally hijacking from my friend and colleague Varian Brandon. She spoke at Camp Star Heart this last May, and our theme was BECOMING. Varian did a wonderful talk around the letters of the word becoming. And I'm just going to tap into her first letter here.
Her first letter in studying becoming was B, brace for turbulence. You are built to withstand. She used the analogy of a plane. And how recently she was on a plane, and the plane hit turbulence, and it scared her and it terrified her. She went home and did some research and according to her talk that she gave, she found that no plane has ever been taken down because of turbulence. Planes are actually built to withstand the turbulence.
I found this fascinating. It was so in alignment with point number one -that turbulence exists. And so number two is brace for it. You're built for it. This is a reminder that you are resilient. I have spoken to this one again often, my friend Michelle Bauman who passed away a few years ago of breast cancer. One of the things that she lastingly left in my heart, two things she left. The first one was my resilience is my security. The second one was how to have fun enrolling. That's a conversation for another podcast.
Michelle had talked about in her own journey being a lawyer and going from a lawyer to a life coach, how she was terrified of leaving the money and how money was their security. Michelle was really one of these people that was driven by the need for security. I see this in a lot of people I work with. What she said really shifted things for her and actually allowed her to transition to being a successful life coach was realizing that it wasn't her money that was her security, it was her resilience.
I also recently shared a video on my Facebook page and have done a couple of posts about it in the book company of one Paul Jarvis talks about how one of the biggest indicators of business success is resilience. I'm going to expand that to say resilience is also how we get through life. Many times, I notice in working with my clients and even in my own thinking that we simply forget how resilient we are.
So number one, life is 50% awesome. Life is 50% shit. There is turbulence. Number two, you are built for it, brace for it. You are resilient and have an innate ability to adapt. I think of the concept, this is from my husband from being a teacher, whenever he overhears coaching stuff, I know one of the concepts they would teach in school and in teacher training and stuff is an open mindset and fixed mindset. He and I have had a few conversations about that. It's a fundamental concept of personal and professional development to have an open mindset versus a fixed mindset.
And what I love about bracing for turbulence and realizing that we're built for it is that when we have an open mindset, when we can see things from a broad view, we're able to handle specific difficulties.
The other concept along the lines of this resiliency and how we're built for it– random analogy: I remember learning to water ski when I was a very young girl. One of the first things my dad taught me about water skiing was to allow my knees to bend, right? So instead of holding my arms tight and clenching my arms, and making my legs straight. When I would hit the waves of water skiing, if I allowed flexibility in my knees, I would sustain the impact of the waves and could stay up much longer instead of eating it on the lake.
I find those analogies really helpful. When we're going through turbulence, I notice one of the things that I do is I start to judge myself. This is one of the most harmful things I can do. It's not that I purposely say, "I'm going through turbulence. Let me judge myself." But it is such a conditioned response.
Oh, you guys, I have a client that showed up yesterday on a coaching call, and she was talking about standing in your truth. And then when she did it stand in our truth, how she was automatically shaming herself for not stating in the truth. What we were able to help her see was that of course, she did. We know that that makes us feel better. But please remember that that self-judgment and even the judgment outside of us, is a conditioned response. It's simply a habit that can be changed.
When we began to work with an open mind and we begin to work with curiosity outside of ourselves and inside of ourselves, curiosity is the same thing as bending at the knees. An open mind is the same thing. And you are built, your body is physically built for flexibility. Your brain is built to be able to think about all kinds of things. And yes, it has its automatic function. Remember the tool of flexibility, open mind, and curiosity, right?
#3 Learn to Feel Bad
"I don't want to feel bad Allison." I know, I get it. I'm an enneagram seven. We are the kings and queens of avoiding feeling discomfort. I am so conflict-avoidant. I don't like to feel physically bad. My husband laughs at me. Even when I have physical ailments, my sweet mother had rheumatoid arthritis and I never heard her complain unless she had an accident like stubbed her toe or hit her hand on something. But I never heard her moan and groan. And you guys, I've got to admit there was a season there when my back was hurting and my body was hurting, and I was a big moany complainer. And my husband just looked at me and said, "You do not know how to feel bad." And he was actually really right, and not just on the surface. This was at the time period before I learned how to feel difficult emotions.
The concept I say of learning how to feel bad is actually really liberating. I find myself grinning ear to ear as I'm talking to you about this. Because learning how to feel bad has increased my capacity to feel good. All my years of avoiding feeling bad, actually suppressing that, depressing it, outsourcing it caused more problems, right? It's that thing, that which we resist persist. In the learning to feel bad, we actually create the capacity to feel good.
The first step in doing that is what I call "becoming a noticer. I'm very big on noticing my emotions instead of judging them. Noticing. For example, here's what I do with drinking. Drinking used to be a way that I outsourced discomfort and tension. If I was in social situations, I would feel anxiety and I would drink to just calm down. A lot of times at the end of an intense but good work day, I noticed that between 3:30 and five I really want a glass of wine.
I decided to be really mindful in those moments. When I was having a craving, if I was having a craving for food or a craving especially for wine, I would slow down and take a couple of breaths, and notice what was underneath the craving.
I started paying attention to my cravings, and not just food cravings. So the other craving I have is to sleep. You guys, in depression, sleeping was a major way to outsource. It's like to avoid feeling, something I would just go to sleep. Noticing those cravings and checking to see am I really sleepy? Those kinds of things. What did I love that it did is it gave me this pause before taking action, a pause before a response. So instead of having a reaction and drinking a glass of wine or going into taking a nap when I wasn't really tired, I could pause and see is there something here that wants to be felt?
So many different ways that we avoid feeling bad, stuffing, shoving. But learning to mentally, emotionally, and physically process feeling bad.
Learning how to process that feeling bad can be really helpful. And, a little side note, there'll be a little call to action at the end here of the podcast, but I've recently updated my opt-in. So when you opt-in at my website, the very first thing you're going to get is a feel-good little book about how to feel good and how to feel bad. Originally, there was one all about feeling good, right? That was in my feel-good fairy days. I really love and respect those days. But what has been monumentally shifting not just in my internal world, but in my external world is this learning how to feel bad. So I have a booklet on my website that addresses some of these things. You can opt-in at allisoncrow.com for that.
#4 Learn to Feel Good
So the fourth one is to learn to feel good, right? Learn to feel good. And so again, this is also covered in depth in that booklet. But learning to feel good. These are some of the practices that I did learn early on because my tendency was to avoid pain and find pleasure. I'm actually pretty good at learning how to feel good.
I notice that there are a handful of people that like to feel bad. It's easier to feel bad than it is for them to feel good. I love the idea of considering how can I feel good in this situation without bypassing it? How can I self-sooth? What are the practices that support me from the inside out? Again, mental, emotional, physical processing, right? So we can process and allow both the bad and the good. Right?
Feeling good is one we celebrate in SoulFull Success. Every Friday I like to celebrate with my clients. We celebrate wins, and we celebrate losses and failures. And last week we celebrated turbulence. I love to have a ceremonious day where we really call to mind both the good and the bad- the reason is the acknowledgment matters.
A sweet girlfriend of mine's stepdaddy passed away this last week. The day after she found out that he had died, she was really sad. And it was like, "Of course, I'm so sorry that happened. Of course, you're really sad. Of course, you're really angry," right?
So I think I slipped back in how to feel bad when we're actually on number four, learning to feel good. But learning to feel good for me is a lot of the processes of journaling. Big feeling good for me is feeding my mind with things that help me, remembering certain patterns of thinking that don't necessarily come naturally.
Currently, one of my best ways to feel good is spending my own private study time. I am studying The Way Of Mastery. And right now I am doing that through listening to the free YouTube videos on The Way of Mastery. I'm going really slowly through each lesson, and I'm repeating them over, and over, and over again, and writing, and praying, and studying.
It's not an instant fix, but I am nurturing my thoughts. I'm also nurturing my spiritual self. I'm combining those. I have found that during my own recent turbulent times, the feeling good and the feeling bad together have been the perfect soul medicine.
I wanted to mention too, this was a fun one. I was mentioning this to a girlfriend yesterday, and she kind of quoted me. I was like, "Oh yeah, that is good." So in the feeling of bad, there are times when lying under the covers and crying is actually holy meditation, right? So please release any shame, blame, and guilt for the ways that you process emotion. Sometimes we're just sad. Sometimes we're angry and we need to pound our fists. We might need to, not might, but we don't need to pound another human being. We don't need to damage property. But we might need to find a way to express what is in our body and in our being. Know that there are appropriate ways of experiencing shadow emotions that are holy. They are sacred and holy.
#5 Lean in and connect
Okay. So here is another big one. This one is huge for me, and I forget all the time. And every time I remember it is … I actually recently started charting my moods in accordance with the weather, in accordance with the moon and in accordance with day to day activities. As I chart my moods one of the things that I noticed is that when I am going through turbulent times, whether inner turbulence or outer turbulence that kicks up the dust of inner turbulence, that the moment I stop isolating and I connect, I begin to feel sweet relief. So number five is lean into the turbulence and connect.
Last week, I reached out. There was a client of mine that I hadn't seen in a while, and she was on my heart. I just sent her a little video message from Facebook and just said, "Hey love, I'm thinking about you. Haven't seen you in a while and just wanted to say hi and that you were on my heart." She told me that she was actually going through a really difficult time. She had had a death in her family earlier this year. We knew about that, but that one of her children had gotten injured and it's summertime, and she just got really overwhelmed with some of the turbulence of life.
So it was sweet. She was like, "I think I'm going to leave the group." My membership program is come and go. It is month to month. I don't want to be like Gold's Gym that's like, "No, you're locked into two years with us. And if you leave, you have to pay." I really try to teach my clients to trust themselves.
And with this one gal, I said, "Hey, you know that this program is meant to hold your turbulence, right?" Many of my clients sign up for the business coaching aspect, and they forget. I do this too, I forget working with my business coach and my business colleagues that sometimes I actually need to be held in my turbulence and the support. So I told her, I said, "Listen, you can do whatever you want, but I want to remind you that we are here. I am here as your coach to support you in this turbulence." And I said, "But you have to reach out and ask for connection, which I know is really hard. Especially for strong men and women to do. We like to be independent. We like to think that we don't want to impact anybody else."
I had the very same thoughts this weekend. I have a girlfriend who her dad is dying. I have another girlfriend who's going through her own turbulent times, and I'm listening to them. We have a little video exchange that we're constantly communicating on, and I'm listening to them. And I'm in my own turbulent spot, but I didn't want to bring it up. Because in my mind I'm like my turbulence doesn't compare to my friend's dad dying. That's really bad.
What I love is that my friend said at the end, she said, "Al, how are you doing? I know we're doing all this, but I sense that something's going on with you. And I just wanted to see how you're doing." And I just started sobbing and I said, "My turbulence is not that big of a deal. It's just this minor thing." And she was like, "Don't you dare." And she was so right. We tend to minimize our turbulence. She said, "You actually help me when you open your heart and let me help you."
It was just such a good reminder that I get this not only from my girlfriends, but I also get this in The Brave Society. Last week, I popped into a live there. These are highly professional, powerful leadership women. And I am sitting in front of my gynecologist office boohoo hooing because I just needed to connect. I needed to know that when I was worried about something with my health and that when I was overwhelmed and stressed, that I wasn't alone. It was so tempting to hide and isolate at that moment. It was so tempting to say they don't want to hear me. They don't want to hear about my problems. Because somewhere along the way, somebody told us we shouldn't feel bad or somebody told us that we were victims. And what I have found is that there is a way to be in your turbulence without being a fucking victim.
Usually, if somebody is accusing you of being a victim, they're actually the one being the victim. Projection, a whole nother podcast. But there is a way as a leader, as a strong person to be weak, to be held. I don't even think it's weak. I think it's courageous to be human. And I'm not talking about curated authenticity. I am talking about as we used to say when I was in Chris Zydel's art circles, "The circle can hold it all."
That's what I told my client. Then, I told all my clients too, just as a reminder, I was like, "You guys, this circle, even though it's a membership program, this circle can hold it. There are enough people in this room that when you stand up and say, 'I need to be seen, I'd like some support. I'd like to know I'm not alone.'" I call it witnessing. It's like I don't need to be fixed, but I just need to let y'all know what's going on. "My child had this accident and we have some extra expenses, and they're growing up, and it's summer." Whatever the stresses are, you guys.
Why is it that we tend to isolate instead of connect? Connection is actually the thing that will heal. And I get it. I am independent and I am an isolator. And I am learning that the moment I reach out my hand and just say, "This is what I'm going through. Please see me and hold me." That just letting them know changes everything. So that's number five.
Lean in to connect. It's one of the bravest things you can do. It's one of the strongest things you can do. And you actually help the other people who get to love on you. You do not have to do this turbulence alone. And whoever told you, and whoever told me to stop that crying bullshit or that you were a victim. Hell, in my old company, this stopped at my old company right as I came in. But I had heard for years – that there was this thing. It's like if you're complaining, you're a victim. And they would hold up a V over your head and then they would turn it into victims are losers.
Bull fucking shit. There is a difference between being a victim and turbulence. Turbulence happens. Being a victim is manipulating turbulence. And you listening, I know you. You are not a manipulator of turbulence. In fact, as you'll see in the Feel Good Guide, you are unbecoming a frother.
My sweet friend Tracey Lee has given me permission to share this story and I've shared it before, I'm going to share it again, and it's in the Feel Good Guide on my site. I've added this concept called frothing. Frothing is when feeling the drama is easier than feeling the pain. Frothing is manipulating the situation, the pain subconsciously because of the attention it gets. That's not what I'm talking about, but what I'm talking about is bringing your whole heart, bringing the heaviness and weariness. Let me pause there.
How many of you are simply tired? You're weary? I love the Banksy quote. "Rest, don't quit." And sometimes resting your emotions, resting your weariness in the presence of a witness of a good friend, a colleague, or a coach. Or a spouse, or whoever you can get, so don't go at it alone.
That one's really big.
I noticed I was rushing myself to get through this podcast.
That one's really big. If you're one of my Soulie clients and you're listening, first of all, thank you so much for listening and for your reviews on your favorite podcast player thingamajigger. But especially if you're one of my clients, I want to encourage you not to isolate when things are challenging. I want you to know that I am not afraid of your turbulence. Your turbulence might make other people uncomfortable. Be brave in your turbulence. There are going to be a lot of people that don't know how to handle it. I got it. I got it. You want to know why? Because I'm learning to handle my own turbulence. Thank you, Chris Zydel, who was the first person to really teach me. Through Chris and art and coaching, I've learned to just be.
#6. Breathe, y'all, & deepen your meditation practice.
So the last one is one of my favorites. It's so simple. I have a whole episode about it called Breathe. Just breathe. Breathe y'all. And for me, breathing in itself, consciously, awarenessly. Awarenessly, is that a word? With awareness. And breath can lead me into meditation. As a very full minded person, my brain is always running, my thoughts are always running. I'm not necessarily full to the calendar, but I notice that my brain doesn't like to slow down. I had a wonderful colleague last night, not last night, last week, ask me about my meditation practice. And I was like, "Shitty meditation. It's been lame lately." She reminded me how during turbulent times, my meditation practice is really important.
It's not just important for spiritual reasons. It's actually building the muscles in your nervous system and in your soul spiritual connection that increases your ability to withstand the turbulence. Right? So when we can, I know y'all have all seen the little cartoons or the sayings that say "don't have time to meditate for an hour, then you need to meditate for two." I'm certainly not requiring of you that you meditate even an hour or two. But if you can begin with five minutes of quiet breath and meditation with your hand on your heart and on your belly, allowing thoughts to come in and out as they do. You can begin to build that muscle, you will find yourself less reactive to outer turbulence. You will find yourself coping better.
I cannot tell you that turbulence won't come. I cannot tell you that somebody you love won't get cancer…that somebody you love won't commit suicide. Somebody you love won't be an asshole to you. I can't tell you that the economy won't turn or that systematic racism is going to end today. I can't tell you these things. I can't tell you that the world outside of us is not going to quit being both awesome and terrible at the same time. But I can tell you that as you are mindful about your breath and as you are mindful about your meditation practices, you strengthen your nervous system and your spiritual system to have a greater capacity to withstand the waves of life.
This helps you live better and work better. Your recovery times are quicker. And the impact, and I know many of you listening have a deep desire to not only do well and have a better life and better work for yourself, but you want to have an impact on others. And to do that, we've got to strengthen from the inside out.
So let me recap six ways to deal with turbulent times. Number one, life is 50% awesome and 50% shit. It just is. Number two, brace for turbulence. You are built to withstand. You are resilient. Thank you, Varian. Number three, learn to feel bad. Number four, learn to feel good. Number five, lean in to connect instead of isolating. And number six, breathe y'all. Strengthen your meditation practice.
And with that, I will see you next week. I have a special episode for you. I'm going to be featuring one of my super soulies Cara Wykowski who is the leader and owner of the company My Girlfriend Voice. So you'll want to tune in for that. Thank you all for being here, and I'll see you next week.
---
Thanks for spreading the word about The Better Life Better Work Show. And of course, I love your Social Media Mentions and Shares with #BetterLifeBetterWorkShow
Let's connect online @allison_crow on Instagram and Allison Crow on Facebook.
And, if you'd like to be a master student of Better Life and Better Work, I invite you to join me in the Soul-Full Success Coaching Membership Community ~ My exquisite membership community where connection, coaching, teaching and most of all, YOU, matter.
Podcast: Play in new window | Download
Subscribe: Google Podcasts | Stitcher | Email | RSS | More